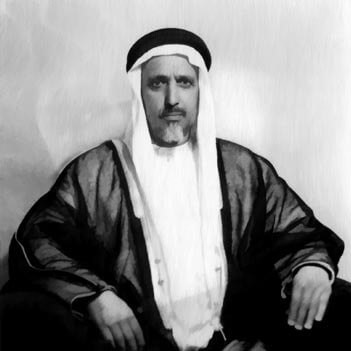 1949 - 1960
Sheikh Ali Bin Abdullah Al Thani is the fourth Ruler of the State of Qatar. He was known by solemnity wisdom, forbearance, pursuance of a path of conciliation and consolidation of common word, the high moral character, high personal traits and noble qualities. During his tenure the country exported the first oil shipment, marking the actual entry into the oil age, and a new period of social and economic development.
Sheikh Ali Bin Abdullah Al Thani was born around 1896. He became the Ruler of Qatar following the abdication of his father on August 20, 1949.
On December 29, 1949, the first shipment of onshore Qatari oil was exported from Messaid (Dukhan area) terminal.
During the period Qatar established close relations with a number of Arab and foreign countries, helping to raise the profile of the country on the regional and international stage. Equally the first British political official in Qatar was appointed in 1950.
On September 1, 1952 Sheikh Ali signed an agreement with the Iraq Petroleum Company (later the Qatar Petroleum Company). On November 29, 1952, Sheikh Ali also signed an offshore agreement with the Shell Overseas Exploration Company Ltd to extract oil from the offshore fields. Under the terms of these agreements, Qatar acquired 50% of the profit from export of oil.
Sheikh Ali took important steps for the establishment of an effective administrative system to undertake the management of the oil economy and oversee the social and economic development of the emerging stage . He was a patron of arts, literature, education, and culture; and gave great consideration to intellectuals, writers and poets as well.
During his tenure Qatar seen concrete improvement of economic and social conditions. The health sector was developed and the Rumailah Hospital was launched in 1957.
In the last decade of his rule, landmark achievements emerged, such as: the Clock Tower, the ship harbor, the National Library (Dar al-Kutub), and the airport, in addition to installing water supply networks to provide houses with free water.
In 1953 the first telephone exchange (central office) was launched, and in 1954 the first water desalination station was set up, followed by a power generation station to provide citizens with free electricity.
Sheikh Ali was known for his fondness of knowledge. He enjoyed the company of scholars and encouraged the dissemination of education and knowledge.
He was also credited with building and restoring various mosques in Qatar, Arab and European countries he frequently visited.
Sheikh Ali passed away on August 31, 1974 in Beirut and was laid to rest in the Al-Rayyan area in Qatar.